Our farm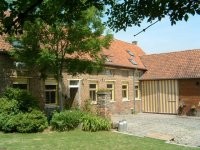 Discover a world of peacefulness and silence, to be explored either by foot or by bike. 'Den Ahthayet' and its beautiful surroundings is an exquisite and ideal location for a short or longer journey.
Hospitality is this home's trademark. We offer our visitors a selection of three comfortable guestrooms, with cosy corner, and a private bathroom with shower. Additional beds for children are available.
Your hosts cook and serve you breakfast and dinner in their private dining room. The living room awaits you for a game, some happy reading or play, even for our smallest guests.
The garden and the terrace offer you all the comfort you need for your leisure time out in the open.
Guy & Cecile welcome you for a stay in their renovated farm, dating from 1875. It's name 'Den Ahthayet' means 'Gift' and that is precisely what visitors to this particular home receive; A pampering hospitality, nicely decorated rooms, beautiful grounds and nature. These are the ingredients for a memorable gift, a stay at 'Den Ahthayet' .